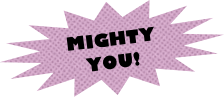 Welcome to Mighty Me!

A children's SUPERHERO class for 2 to 5 year olds that fosters

EXERCISE, SELF EMPOWERMENT AND KINDNESS!

MIGHTY ME TRAINING CAMP is an educational exercise program that encourages participants to become their best selves through physical activity  magically camouflaged by creative storytelling, pratfalls and fun! Participants are guaranteed a heart-pumping workout and a chance to find their Mighty Me!

©2017 Mighty Me Productions, Inc. All rights reserved.